I don't much use WhatsApp GROUP feature. It's just, I don't like that how every time it notify me for every single message. So to avoid this, there's two option either you 'Mute' that particular group or 'Delete' it. I choose 'Delete' feature. But this is not the reason why I have written this article.
So, today one of my friend has invited me to his newly created Group on WhatsApp. As there were only two three people in group, I didn't delete or Mute it.
Instead of this, I started exploring the WhatsApp GROUP features and functionality. I came across to WhatsApp's "Group Info" section where I can see Group Title, Creation date, Media Section and list of Participants.
I scrolled down to my name, and tapped on my profile. Then voila, I can chat with myself!!!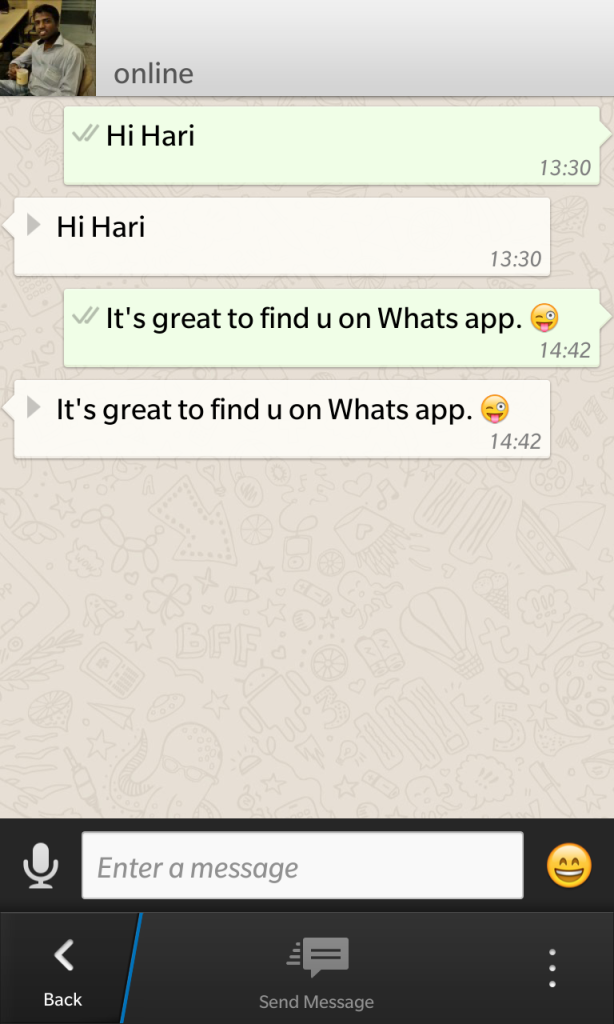 As far I know, you can't chat with yourself on same device from any Chat application. But this feature OR bug allows you to send message to yourself.
WhatsApp Guys, if this is the Bug then fix it. Take your time as you want as it doesn't harm anything. But if it's a feature then it's good. Atleast you got someone always online to receive your message 🙂
Application Tested on:
Platform: BlackBerry Z10
OS Version: 10.1.0.4828
WhatsApp version: 2.11.66
How to reproduce same action:
Launch WhatsApp from your BlackBerry 10 Device
Go to any group that you have joined
Go to 'Group Info' section
Tap on your Profile
That's all… have a nice chat with yourself