Last second weekend March 2012 was fun, exciting, familiar with Mumbai IT Pro User Group Team Ashwin, Cyril, Shabbir and Bharat at Microsoft Tech-Ed India 2012, The Lalit Ashok – Bengaluru.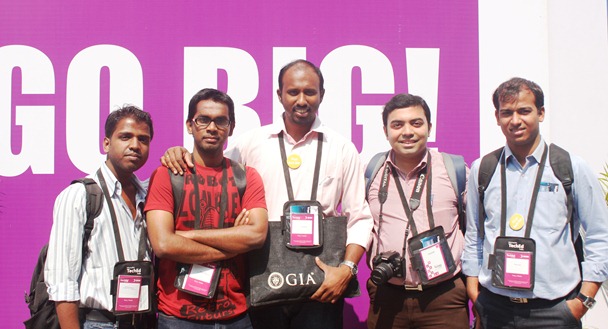 This was the first time…  I was invited for Microsoft Tech-Ed India, for which I am grateful to Mumbai IT Pro User Group and Microsoft India.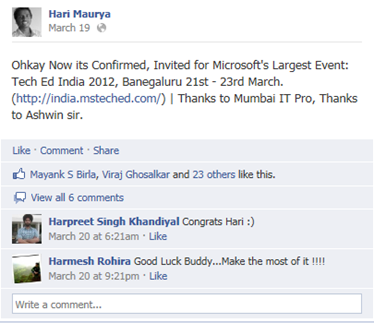 Microsoft Tech-Ed 2012, the largest Technology Event in India  covers over 100 break-out sessions, conference for hands-on learning, deep product exploration and opportunities to connect with industry and Microsoft experts one-to-one.
The Ground field was full of session boards… you might get confused what to attend, what to learn, what to do and finally, where to start. It's really confusing for somebody like me who fall in both categories IT Professional and Developer. If I go for Windows 8, I have to give-up Windows Server 8… If I want to learn  'Building a Better Web', I have to forget 'Reimaging Desktop Deployment'. Nevertheless, I collected my Tech-Ed Media / Press Passport and  attended day's first Session 'Windows Server 8 Technical Overview' by Aviraj Ajgekar.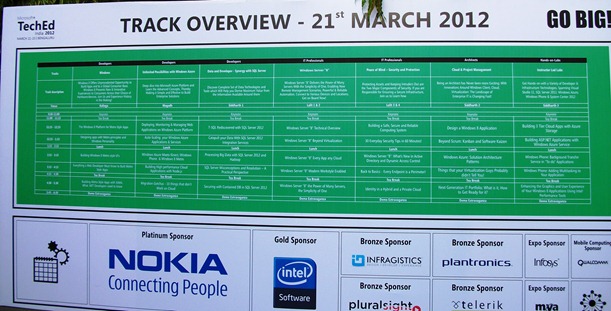 After session, i thought, leave session…. let's have some fun. There was an opportunity for free certification on Virtualization (070-659, 70-400) and Microsoft Office Specialist for 300 and 500 attendees on 1st come first serve basis. I appear for both exam under the guidance of 'Shabbir Ahmed and Bharat Gupta' and successfully cleared certification…. so i'm now Microsoft Certified Technical Specialist and Office Specialist. You can checkout my MCP Virtual profile over here.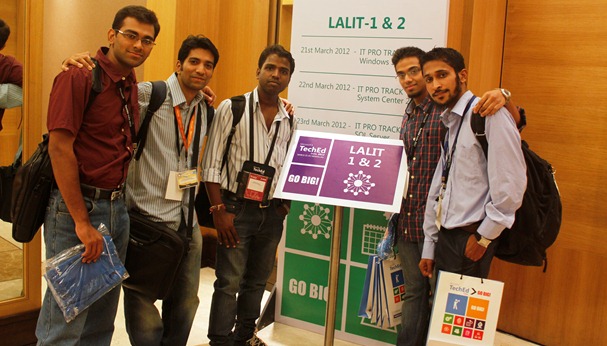 On 21st March Eve, i was part of User Group conference meet along with other User Group leads / Members and learned what it takes to run an user group like Mumbai IT Pro or any other.  And on second day, had a delicious dinner with Microsoft Staff, MVPs, User Group Leaders at Oko Pan Asian restaurant, Lalit Ashok. On 3rd Day, we acknowledged what Microsoft want to hear from us / User Groups, MVPs, Student Partners in a Meeting with DPE Evangelism Director – Harish Vaidyanathan.
These 3 days were awesomest things to experience, got a chance to meet Industry people, knowing there lots to learn, understanding how we can build a better society with these Technologies, choosing a perfect opportunity swinging around us. Overall it was a perfect package, it was a great experience, really enjoyable.
The Point is Technology will come and go, there always be an another Tech-Ed, but there's one thing every attendee should know 'Tech-Ed is all about 3 things – Goodies, Goodies, Goodies'

. Yeah, you hear me right, Microsoft deta hai chappar phad ke. This time Microsoft was giving away Windows Phone, Windows 8 Tablet, Certifications, T-shirts, Traveling Bags and many more. Not only Microsoft, other firms like Nokia, Intel, Plural sight, Plantronics etc.. were also in the list.
To know more What Happens in Tech-Ed India 2012 check out this film 'Tech-Ed Journey' Directed / Created by me.  And if you want to learn few sessions from Tech-Ed visit http://www.istream.com/news/show/570/.
All Pictures are uploaded over here.